The moving experience can be extremely emotional for seniors who have resided in a place for many years.Starting over in a new environment brings about a big chance in everyone's life. A separation from the familiar while moving on to the unfamiliar can be difficult.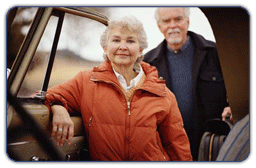 This is why you need to find more than a company.
Our definition of more than a moving company is a person who understands the relocation experience and has the knowledge to bring it together and make it happen.
When selecting this gateway, we will give you the opportunity to speak with a specialist who will assist you in planning every detail of your relocation.
Arrangements will be made for an experienced team of professionals to box every room in your house and properly label all items for an easy transition.
Our service extends beyond normal packing and includes wrapping glass, stemware, antiques, clocks, ceramics, linens, clothing and window treatments.
The relocation team will be responsible to dispose of unwanted items, dismantle wall-hangings and individually package breakables.
We carry out your requests to ensure that you have a positive experience while providing support and encouragement every step of the way.
Upon request, your consultant can even make arrangements for you to meet with an Estate Appraiser. This will assist you in the downsizing process and enable you to sell your possesions at market value.
A specialty service that we offer is interior placement. This interior design is a source for change by utilizing the Art of Feng Shui (special request and additional fees apply).
Using this philosophy, our trained staff will arrange your surroundings to promote happiness and harmony. The strategy will provide you with the ability to discover inner peace and personal beauty.
Our consultants will use the principles of Feng Shui to create a level of comfort by balancing space and decoration.
We will re-design what you already have without altering personality or opinion.
The designer works with you in determining what best fits your lifestyle while focusing on simplification and spiritual wealth.
Our senior relocation package will inspire you to explore new horizons and develop a life-of-style.
Contact our relocation office to design a plan for you.